March is B Corp month, the annual celebration of the community of Certified B Corps and our collective impact. So what better way to celebrate than by featuring some Scout Books from our Portland B Corp friends?
Mad Fish Digital
We love to know how Scout Books are being used, so we reached out to the folks at Mad Fish and asked about their PNW-flavored Pocket Scout Book design:  "As a purpose-driven digital marketing agency in the Pacific Northwest, we knew we wanted to share our love of the outdoors when putting together our client gifts. We designed our Scout Book with this in mind, from the canoe and tent to the view of Mount Hood. We've used them in conjunction with other Certified B Corp products, pairing the notebooks with Nossa Familia coffee and a camp mug using the same design to delight clients around the world."
Marmoset
Marmoset specializes in meticulously curated music licensing, award-winning music production and unique artist collaborations, and we love their fun and funky purple design. The inside cover features their logo and explanation of their purpose and B Corp status. These books are sent to Marmoset's community of clients and artists as part of curated gift boxes, and also used internally for daily standing meetings.
ThinkShout
ThinkShout's strategies, designs, and digital products enable progressive organizations to achieve greater impact, so it's no wonder that their Scout Book features such a simple direct message.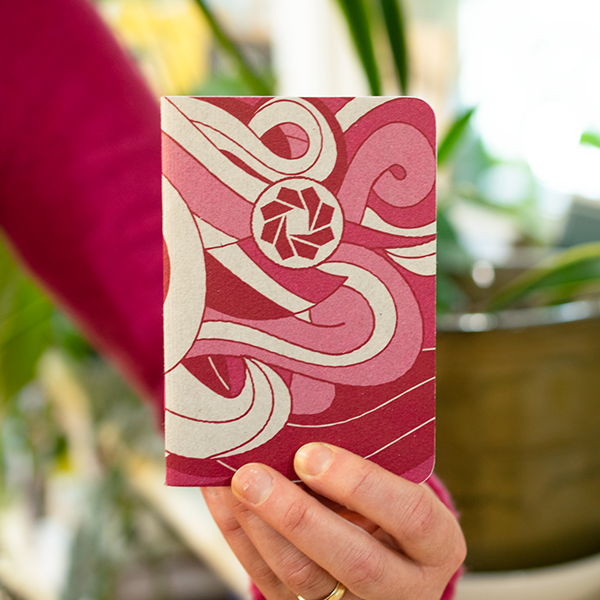 Living Room Realty
This bold and bright Scout Book from Living Room Realty has a secret! Open it to discover that the inside cover is filled with boisterous pink lettering that showcases key words from their mission and values, as well as listing their locations (Portland, Vancouver, and North Coast) and proudly displaying their B Corp status.
XPLANE
XPLANE unites "the strategic expertise of a consulting firm with the creative power of a design studio". They wear a lot of hats, and so does their Scout Book! XPLANE provides a book for each participant in their Visual Thinking Bootcamps, uses them as a surprise gift when people make a large purchase from their store, and sells them as encouragement for people to keep sketching and drawing. They're also included as part of an onboarding gift for new employees!