Let's get started!
Scout Books are fully customizable notebooks that you can design yourself. Make a beautifully branded notebook, event guide, Kickstarter prize, or even self-publish–there's no limit to what you can create! Produced in the heart of Portland, Oregon, Scout Books are known for durable 100% recycled papers, colorful inks, and fast and easy online ordering.
We make it easy to create your own custom Scout Book. It all starts with your inspiration–think up an awesome project, and we can help make it happen. Check out our design options below, and then download our templates. Design your project and then place your order with us online and upload your artwork. We'll create a digital proof for you to approve before we take your books into production. Let's take a look at a few things to keep in mind when creating your Scout Books.
Standard Ink Colors

Every book looks better with your custom artwork in one of our beautiful ink colors. We have seven standard ink colors that we print at no extra charge. We also offer white ink as a specialty color. These colors have all been chosen as the brightest and best, and will perform beautifully. Check our online ordering tool and our design templates to see our standard ink colors. All our inks, both custom and standard, are vegetable-based and made in the USA, which is better for the planet.
Custom Ink Colors

Need to match your brand colors? No problem, we're happy to work with you to get the ink color just right. When working with custom inks, do keep in mind that we print on either kraft or black covers, and the ink color in print will differ from what you see on a screen when designing. We'll just need you to provide the uncoated Pantone color that you would like to match. We provide a digital proof before we send files to press to give you an idea of how this will look, and we work hard to match color as precisely as possible. The quality work from our press team is one of the things that makes Scout Books unique! Contact us about custom ink colors and we will be happy to go over options with you!
32 Pages

32 is the magic number for a Scout Book! Both Pocket and Mega Scout Books have 32 pages. We designed our format with sustainability and efficiency in mind, and all 32 pages are printed on one sheet of paper that gets folded and trimmed to make a single book. We've been amazed at just how much our customers can fit onto 32 pages, from literature to event guides complete with sponsorship pages. Our pages are made with 70 lb. weight and are 100% recycled. That gives it a starchy feel with plenty of bite for pens and pencils. Our paper gets great reviews.
TWO Cover Colors
Kraft and black! If you want that classic Scout Books look and feel, we recommend our kraft cover. It's the sturdiest of the cover stocks, and the kraft aesthetic is perfect for any project that would benefit from an earthier tone. For printing on black, we recommend white ink, metallic inks, or foil. With the right design, black chipboard can really shine. If you have any questions about printing on any of our covers just get in touch! You can also see more info on our covers in this post.
Design Templates for Professional Applications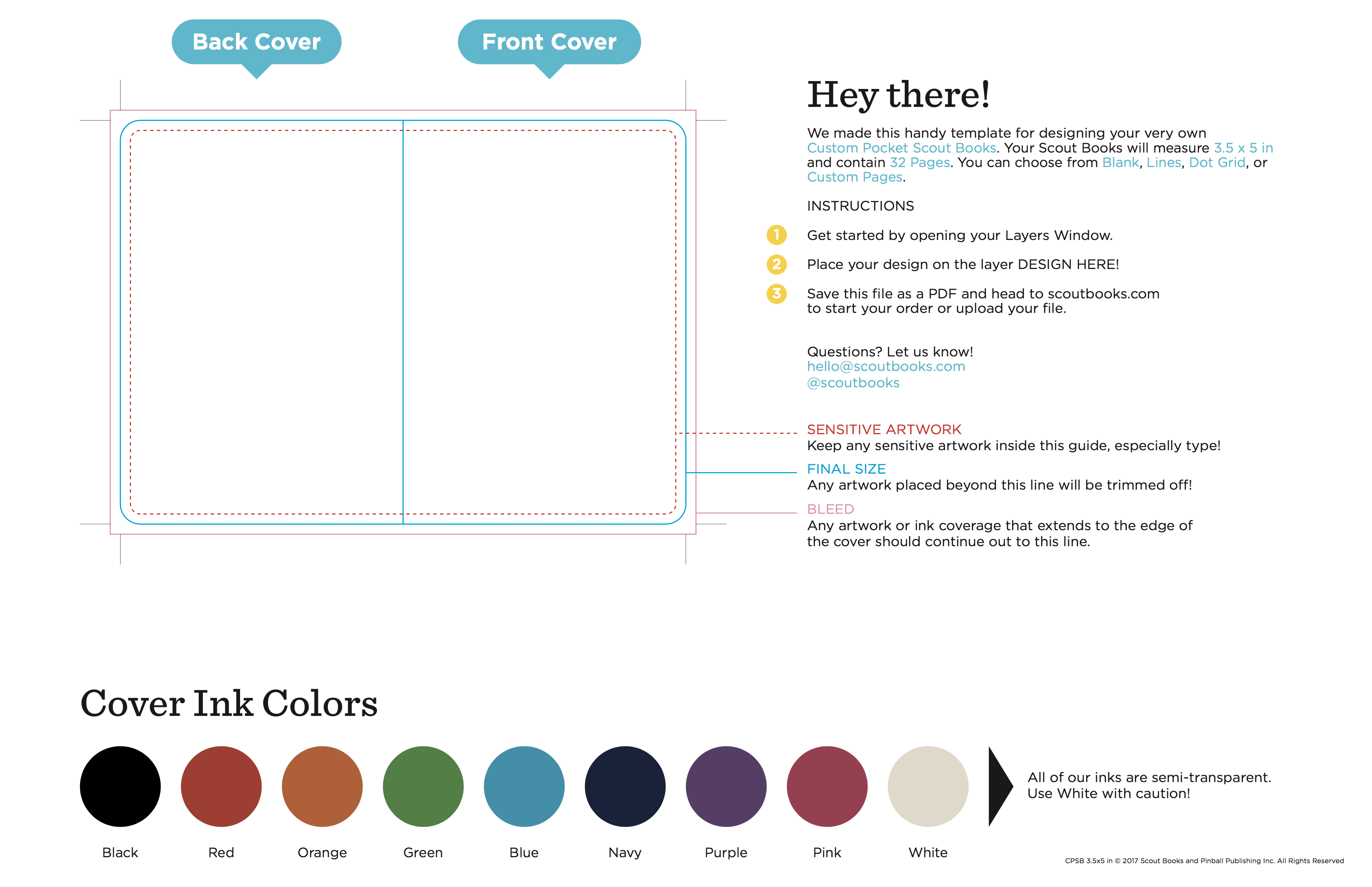 Our design templates are made to help you get started on your design with Adobe InDesign, Illustrator, or Photoshop. They include production guides and ink colors for custom covers and the inside pages of your book. You can find those here.
Designing with Canva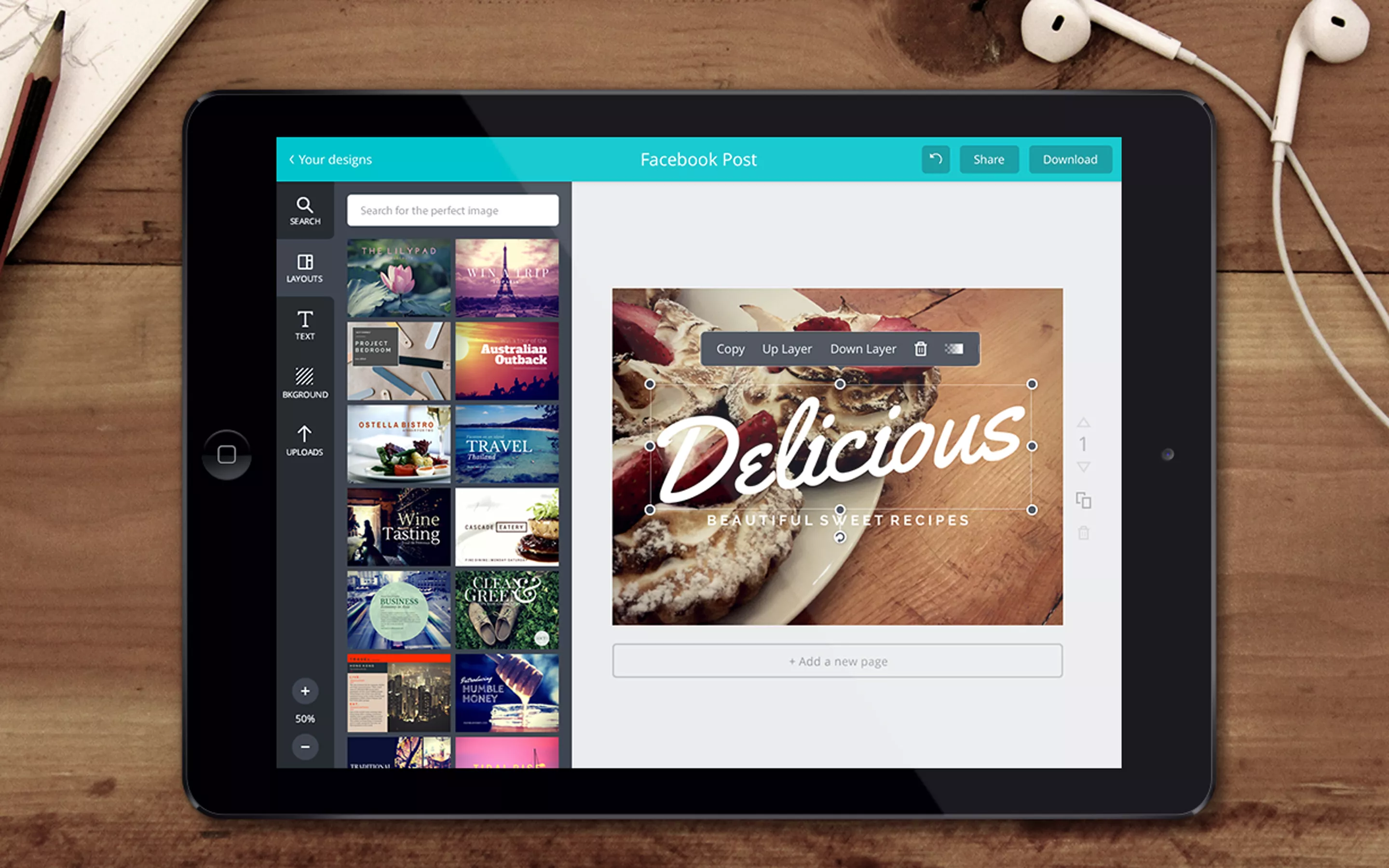 Canva is a free graphic design tool that you can also use to create Scout Books with. While it may lack the breadth of features offered by some of the professional editing suites, it's super simple to use, and is more than adequate for many designs. Canva has some great tutorials on getting started with their software. You'll want to be sure to plan on using our standard inks and export with bleeds at 300dpi to get us a file that is print quality.
There are lots of fantastic places to get art assets and fonts that can be used to create your Scout Book. Here are a few of our favorites:
Alright, now get to work on your Scout Books design and just give us a shout if you have any questions along the way. We can't wait to see what you come up with!
Originally published on January 11, 2018