When the City of Seaside, Oregon Visitors Bureau contacted us to help with creating a Scout Book to commemorate the city's 100th anniversary of their Promenade, we were over the moon! We love how this project is being used to celebrate and inform visitors all year round, while serving as a charming keepsake. We enjoyed interviewing the project's director, Joshua Heineman, to learn more about Seaside and the year-long events honoring the 100th birthday of their Prom.
This is a very special year for Seaside, Oregon. Can you share more about the creation of the Seaside Promenade and its 100 year long history?
The Seaside Prom, an Oregon nod to the great boardwalks and promenades of the world, was finished in 1921 and replaced an older wooden boardwalk with a pier sticking straight out into the sea that didn't stand a chance against the ferocity of winter storms on the Oregon Coast. At the dedication on an August afternoon 100 years ago, hundreds of officials from across the state joined crowds of visitors to see the Prom officially christened by Martha Hagmeier, age 8, who broke a bottle of sea water on the concrete.
Photo courtesy of the Seaside Historical Society Museum
Seaside city engineer L.C. Rogers designed and J.H. Tillman constructed the 8,000 feet of seawall stretching one and a half miles in length between the beach and the summer cottages that line it. The Prom is anchored by a majestic automobile Turnaround where it intersects Broadway street, built of concrete to withstand the elements, and equipped with restrooms, benches, and lampposts.
Photo courtesy of the Seaside Historical Society Museum
The Prom is not just Seaside's playground either. It's for everyone! In 1921, then-Mayor Hurd wrote that "it has been built for you and your friends from near and far." The generations of families that have returned to Seaside again and again to retell memories and make new ones each year is a testament to that statement becoming a reality.
Photo courtesy of the Seaside Historical Society Museum
How is Seaside celebrating the Centennial milestone?
We're inviting visitors and locals alike to experience the Prom this year in all four seasons. We're calling it the year-long, tell-a-friend, invite-the-family, never-before, never-to-happen-again Prom Centennial! A central piece of that experience is the 32-page, full-color, custom-content Scout Book we created around the milestone. It has Prom history and trivia, a scavenger hunt, a map, a historic homes walking tour, a passport-type sweepstakes, and even activities for the little ones. You can pick them up for free at your hotel or at the Seaside Visitors Bureau and use them to explore Seaside through the lens of the Promenade. They also make great keepsakes for the Centennial year.
Events have always been a big part of Seaside and they were to play a part in the Centennial year but the pandemic made that difficult. We still managed an overnight 100k relay on the Prom, a chalk art contest on the Prom, and the official rededication day ceremony at the Turnaround. Other events like beach volleyball, Hood to Coast, and the salt works re-enactors were able to bring attention to the Prom Centennial even if they weren't directly related.
How can people enter to win the Great Prom Centennial Sweepstakes?
It's so easy. You spend the night in Seaside – at a hotel, motel, home rental, RV, etc. – and then come into the Visitors Bureau at the intersection of Highway 101 and Broadway. We'll give you a gorgeous holographic centennial sticker that we had made by our friends at Integraf. You put that sticker in your Prom Centennial Scout Book for the season in which you're visiting. That's it. You're in the game. At the end of each season, four times in 2021, we'll pull a winner from all those who entered and they'll win a two-night stay at the Seashore Inn on the Prom, dinner at Maggie's on the Prom, shopping at the Carousel Mall, bike rentals from Prom Bike Shop, a family pass to the Seaside Aquarium, and taffy from Rascals.
The hope is that people will discover the beauty of being on the Prom and along the Oregon Coast in all four seasons. The light, the storms, the sea life – they all change throughout the year and it's a special kind of magic you can only notice on repeat visits. This will be true even when the Prom Centennial year is over, I cannot recommend those fall, winter, and spring visits enough.
The Seaside Prom Centennial Scout Book was such a fun project for our team! What inspired you all to create this book?
I'm a longtime admirer of Scout Books, having been exposed to them repeatedly at Creative Mornings or other events in Portland. It was fun to watch each agency, each organization take a unique perspective with them and really fun to watch the different iterations of blank notebook develop over time. When I moved out to the North Coast to develop advertising and marketing for Seaside, I knew I wanted to make a Scout Book for Seaside. (In fact, I had mocked one up for the job interview!). We applied for and won a grant from Travel Oregon to develop our Prom Centennial Scout Books and holographic stickers. With that support in hand, we were able to bring each idea for the book to fruition instead of settling for whatever we could afford. Many thanks to our partners at Lookout, Travel Oregon, Integraf, and Scout Books for helping bring this thing to life. We receive compliments on it daily from long-time Seaside residents and first-time visitors alike.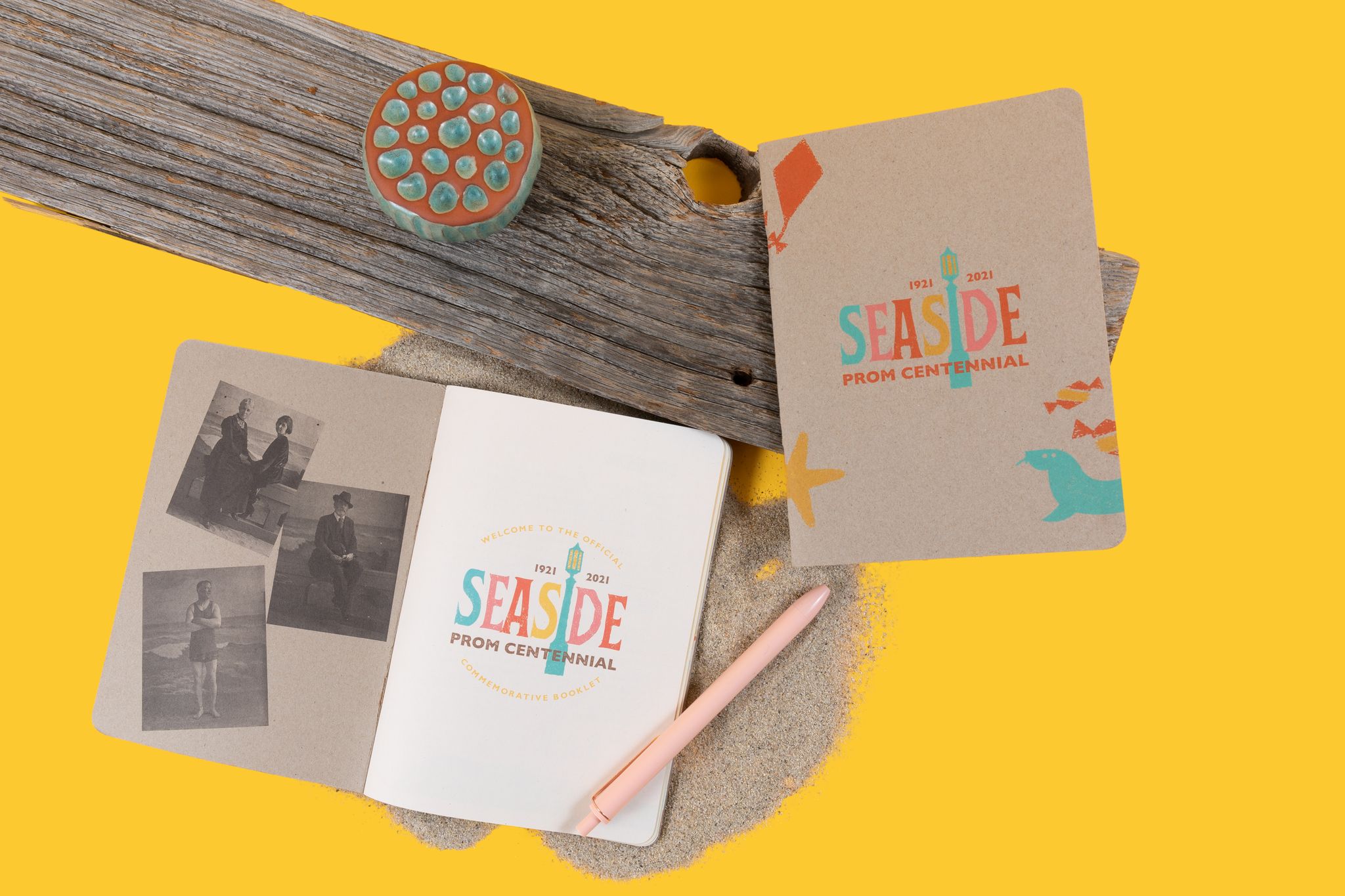 Some of my favorite things to do in Seaside are dip my toes in the Pacific Ocean, ride the tilt-a-whirl and get old time photos with my family. What are some of your recommendations for first-time visitors? How about tips for returning fans?
Those are all great suggestions! For first-time visitors, I'd add parking at the Visitors Bureau off Highway 101 and just walking down Broadway to the Turnaround and back again. It's not that far and you'll pass shops, restaurants, galleries, arcades, etc. and be rewarded with a sweeping view of the Pacific Ocean, Tillamook Head, and Terrible Tilly lighthouse at the Turnaround. Take as much time as you need with side trips! I also recommend beachcombing and looking for sand dollars at low tide near the estuary. For returning fans, explore the quieter end of town. The Cove is a great spot to watch surfers (no need to even leave your car on rainy days) and some of the North Coast's best restaurants are found on the south side. When clamming is open, give catching your own dinner a shot with some supplies and advice from Truckee's. Paddle the Necanicum or venture out to the estuary. Hike the Tillamook Head Trail into Ecola State Park. For more suggestions, get a free travel guide at SeasideOR.com.