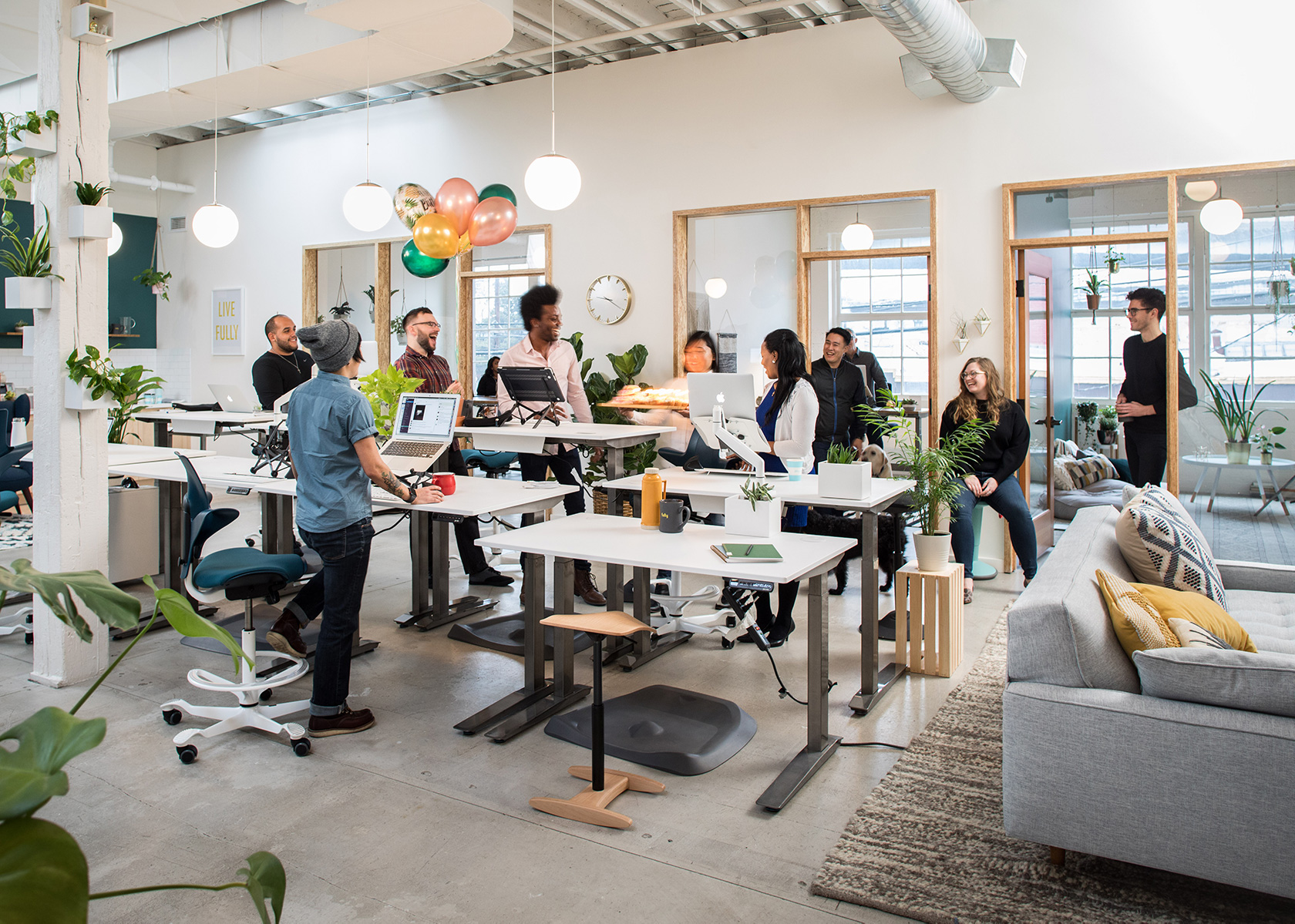 Scout Books became a B Corp in the summer of 2017, and one of the most beneficial aspects of that process is the incredible community of businesses doing good it has put us in touch with. One such business is Fully, a company built around keeping people moving in their chair and at their desk. Fully recently made a line of custom Scout Books with us, along with outfitting our entire office with their Jarvis sit/stand desks and Capisco chairs. We wanted to know more about the philosophy behind Fully's business, so we spoke with Nate Barber, a marketing content coordinator at Fully, to get the inside scoop.
Can you tell us a bit about Fully?
We're a small business in Portland, Oregon, working hard to change the way people work and live. You may know Fully for our Jarvis Standing Desks, as well as our Capisco Chairs. Those have been our bread and butter since the beginning. But we've been carefully curating and designing a much larger selection of pieces that are meant to bring more movement to your workday. We're big on movement. Movement is a great way to be fully 'in' your body, to be more engaged and present, both at work and your life.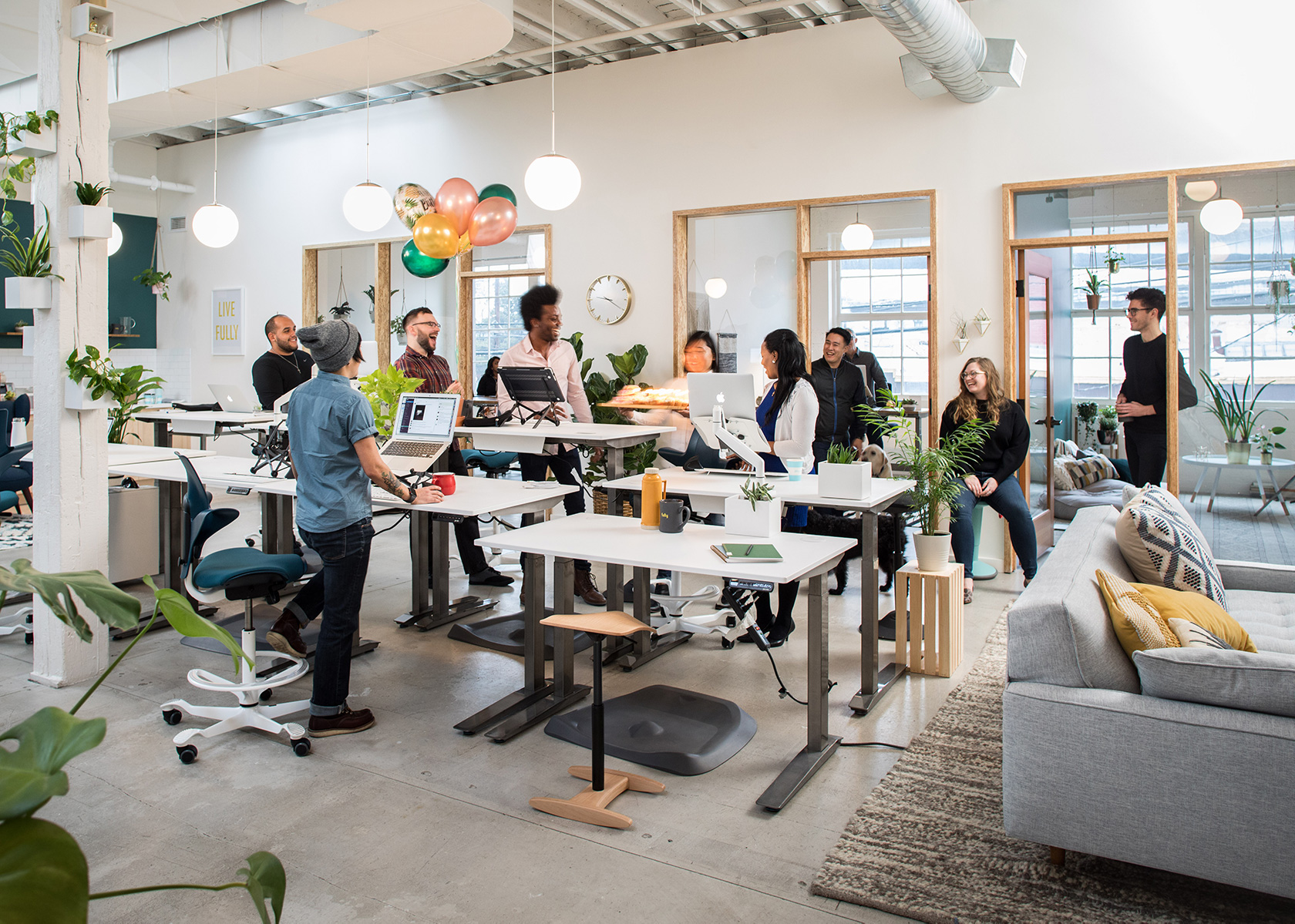 A few years ago, scientists decided "sitting was the new smoking." This conversation sparked a good re-examination of the place we spend most of our lives—at work—and the long hours we spend in our desks and chairs.
Thankfully, this has evolved beyond the sensationalized claim that 'sitting is bad,' and 'standing is good.' Sitting at work has made a welcome comeback. It's no longer taboo to sit at work, as sitting is an essential component to getting the most of your workday—of answering your body's call to move between the positions it wants to be in. What makes healthy work habits isn't a singular prescription for standing (and only standing), it's about movement.
Our culture is a whole other story. Fully's culture is about so much more.
As a certified B Corp, we're experimenting with a different approach to how we do business. Traditionally a business' focus is on the bottom line. We believe if a business drives to create a community of health and wellness for it's staff, we can do better than just "business as usual." That's what this whole B Corp thing is all about. And we're lucky Portland has such a vibrant B Corp community—it's very encouraging to make these strides with so many great, like-minded companies.
How do you use the custom notebooks you created with us?
Our Fully Scout Books are a staple in our meetings and retreats—there's just something about writing things down by hand, something about the physical activity of writing that makes a bigger impression on your mind, that helps you retain notes better. Something about the feel of the book as well, that makes taking notes so delightful. Some of us are pretty picky about the books and pens we use. For example, I refuse to write with anything but a Pilot V-5 precise pen. The same goes for many others and our Fully book from Scout Books. So you see them everywhere, all through our office, some of them full of chicken scratch while others are primly curated with immaculate penmanship.
We also love to hand these out to people. We hand them out at events like our pop-up workspace at PSU's Elevating Impact Summit, or in our showroom, and they're always a hit. You can be sure to run into us at BLDPNW2018 and you can score one of them there. Something about a book this well-made makes you want to share it with everybody and encourage everyone to start writing more.
How is Fully helping businesses keep their team healthy and active?
It all starts with movement. We're all about getting people active in their workday. From chairs that engage your core, to standing mats and treadmills that keep you strutting, and the standing desks that offer so many positions between sitting and standing. We've seen such a great response from people who've integrated these movement-inspired pieces into their workday, who've found they're more engaged with themselves, more in their bodies. Getting centered in yourself is the first step to better work habits.
We've seen our staff take this idea and really run with it, literally. They've started a Run Club, heading out for a quick sprint instead of taking a sitting lunch. By popular demand, we host a morning workout led by local personal trainers and a morning yoga club, both once a week. There are always emails to get to, but we found starting the day a little early with exercise puts us in the right headspace to be more mindful and energetic throughout our workday. This doesn't appear to be slowing down any time soon. Most recently, a walking club sprouted to encourage more walk breaks during the workday. These are just casual, leisurely walks to get some fresh air, sunshine, and some movement.
Fully reimburses us for healthy activities with a monthly wellness stipend, which rewards and reimburses us for healthy activities. This is actually a huge deal. It's inspired me and my coworkers to get more active where, before, the additional cost of a gym membership, yoga classes, or attending local bicycling events might have been a barrier to entry. It's allowed me to keep a membership to the local pool (I take my daughter swimming every Wednesday), and attend bike rides like the STP and Reach the Beach. We also get a daily stipend for being more thoughtful about our commute—as well as offsetting our carbon footprint—by walking, carpooling, biking or taking public transportation to work.
Scout Books and Fully are both B Corps; can you tell us about becoming a B Corp and why you chose to prioritize that as a business?
We first achieved B Corp status in 2015 — it was (and still is) a great way for us to signal to our community and our customers that we were committed to doing good with our business success. We were encouraged by how much of what we were doing already aligned with other B Corps practices, from our commitment to environmental sustainability to our dedication to making the best place for our employees to work.
What's been really amazing is how the process of certification (which we do every two years) means we have to regularly re-evaluate how well we're doing. We have to take a hard look at how we're living our values, how we're improving what we're doing, how we hold ourselves and our partners to a different level of accountability than most other businesses. That's helped us be a better business, and find new ways to improve our practices.
Not to mention how very cool it is to be part of the B Corp community. We get to connect meaningfully with businesses that do very different things than we do, but they do it with the same passion and values. We inspire each other to do better.
Do you have any tips for someone who's looking to stay healthy at work but may not have a sweet configurable desk or chair?
Being healthy or engaged is something you shouldn't have to buy your way into. Sure, our products are designed to be there for you, to take you further and encourage you towards more health and movement. But there's so many things you can do for free, or cost very little to be healthy and engaged.
The root is simple: change the way you think about work. Take your work meetings on a walk, instead of on your butt. Walk or bike to work instead of driving, and take the stairs instead of the elevator. Generally, be less efficient. That's the whole idea influencing our office activities—finding cheap, fun ways to get your blood pumping
Thinking differently about how we work is a huge inspiration in how we design our furniture. To put movement and variation where normally there was none. To break out of your armchair and mix up your day seamlessly between sitting or standing. There's so much you can do, by just stepping back from the normal and reevaluating your workday.
Huge thanks to Nate for taking the time to talk with us, and to the entire team at Fully! You can find more on Fully via their website.
Project Specs:
2,000 Mega Scout Books
Gray covers
Custom yellow foil
Yellow staples
Blank pages