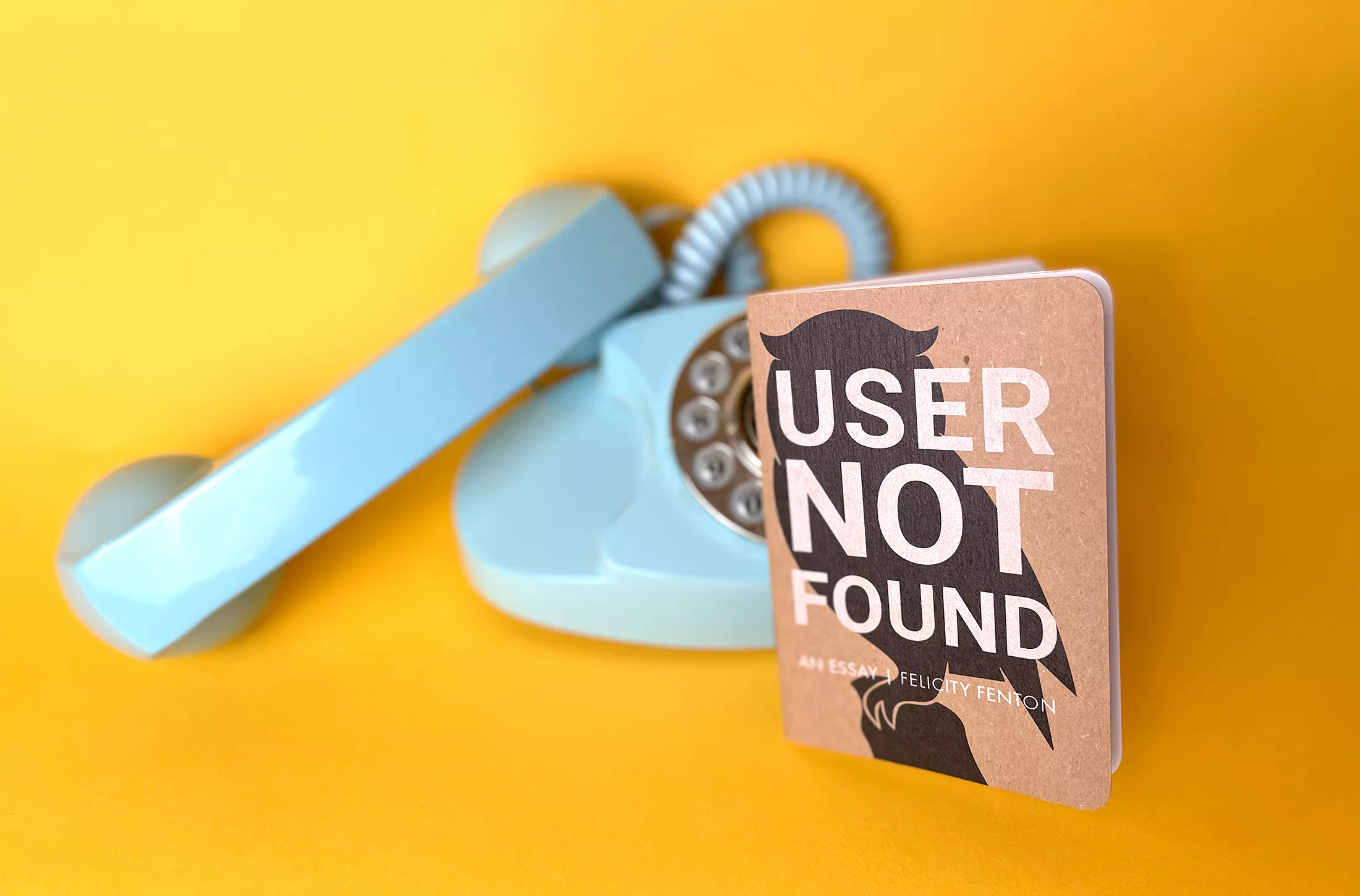 Scout Books spoke to Kevin Sampsell of Future Tense Books and Felicity Fenton about Fenton's essay printed as a Scout Books: User Not Found.
What kind of work does Future Tense Books release?
(Kevin) I've been doing Future Tense for over 25 years now and it's morphed a lot over that time, but our focus in recent years has been short stories, personal memoir, and fragmentary narratives. I've said before that Future Tense is a home for weirdos and misfits, and I think that checks out still.
Felicity, can you tell us a little bit about your work in general and User Not Found in particular?
(Felicity) My work is multidisciplinary: writing, social practice, music, installation, photography, drawing, collage. Writing is where I seem to be spending the bulk of my creative time these days. Mostly prose poems, flash fiction, and essays. User Not Found stemmed from an unhealthy relationship I used to have with social media. I was a super user, made regular appearances, engaged with others, spent way too much time scrolling, scrolling, scrolling, until one day after a series of disturbing online events I ripped myself away and wrote about the process.
What lead you to choose this format for User Not Found?
(Kevin) Felicity and I have been sharing our work with each other for a couple of years and when she showed this essay to me (not even as a submission, but as a work-in-progress) I thought it would be perfect in the Scout Book series. It's the right length and it fits in your pocket, even better than a phone. Instead of pulling out your phone and being distracted by the eternal void, you could connect to Felicity's thoughts and keen observations on real life. It's the perfect use of the Scout Book format.
The original print run of this book was in November 2018, and you reprinted during spring of 2020! Seems like the project was a success?
(Kevin) It was! We printed 750 copies and they were all gone in about fourteen months. So we did another 750 in black and white because I feel like it's an important and timely piece that will connect with readers (i.e. humans) for a long time. The only other Scout Book release that sold faster than that was Pity the Animal by Chelsea Hodson, and that's become a legendary modern essay too. This is actually the first time we've done a reprint of a Scout book.
Do you have any advice for writers or small publishers that might be interested in putting together a project like this?
(Kevin) It's been really easy to work with all the folks at Scout Books and the end product is so pretty and satisfying. I also like that the chapbook format harkens back to the days when I made all the chapbooks at Kinko's or Office Depot and stapled them myself at home. There are still some Future Tense chapbooks that I make that way too. If people aren't afraid to go the DIY route, I always encourage it.
Where can folks get their hands on one of these?
(Kevin) We sell them through futuretensebooks.com as well as through our distributor, Small Press Distribution. Some cool indie bookstores will get them that way. We sell a lot locally at Powell's Books, as well as places like Nationale. Oh, and Antiquated Future (a zine distributor) has some too.
What's next for both of you?
(Felicity) Inspired by the positive responses I've had around User Not Found, I've just launched Periphery, a month-long digital pause program curated for those who want to change their relationship to the internet. I'm also getting motivated to finish up a couple of essays, a few stories, and an incredibly dusty novel.
(Kevin) I have the next seven books already lined up for Future Tense, which will keep me busy for a while. That batch includes another Scout Book—Foreign Body by Katie Gene Friedman—out next year. I am working on some writing projects of my own and I also have a book of my collage art coming out late this year. And as a further extension of my love of collage, I used some of my 2020 quarantine time to start an online gallery of international collagists. It's called Sharp Hands.