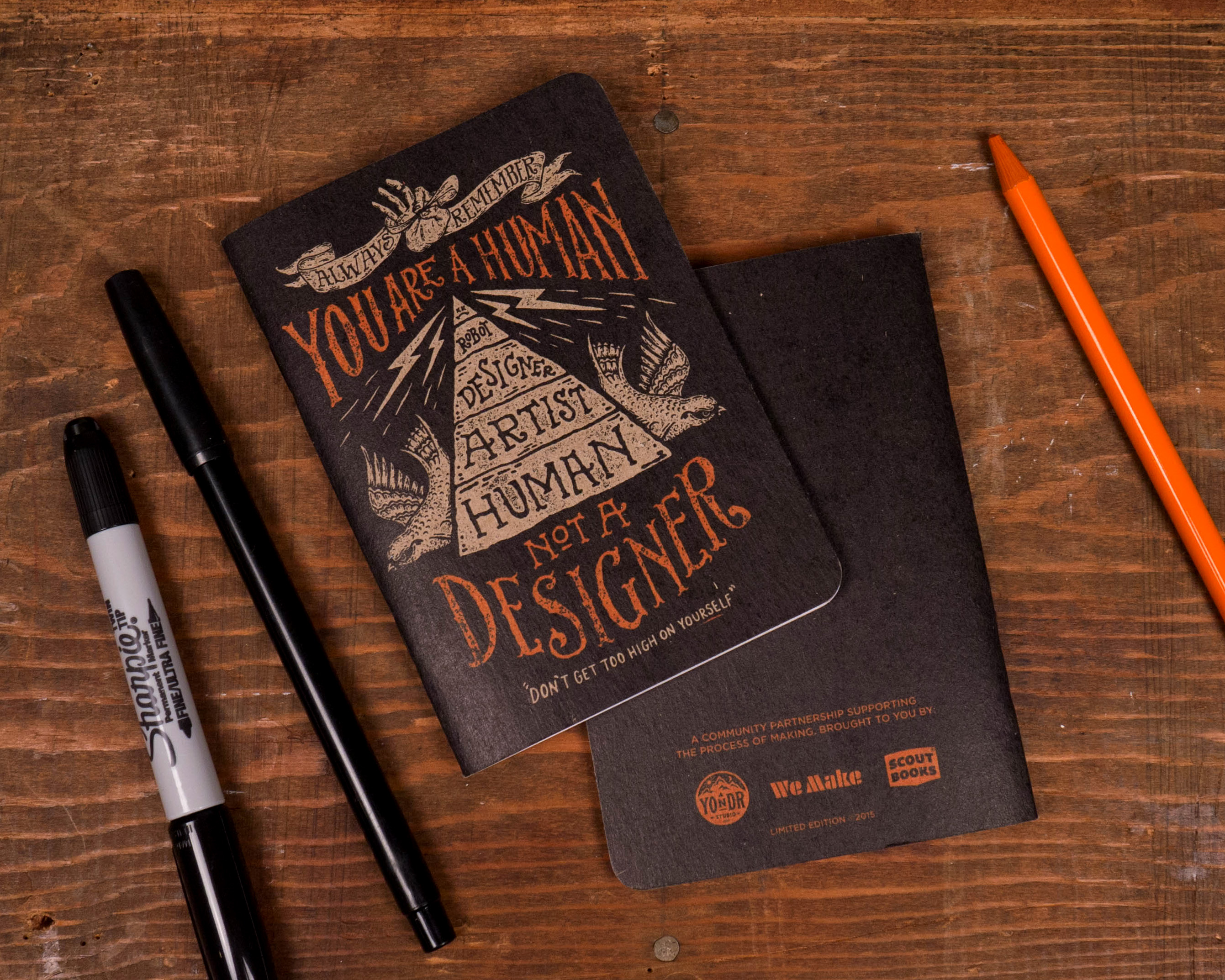 We were thrilled to partner with Nathan Yoder and WeMakePDX to produce these limited edition notebooks. In the winter of 2015, illustrator Nathan Yoder of Yondr Studio taught a short series of lettering workshops with WeMake at Tillamook Station, where the notebooks were giveaways. This skilled illustrator relocated to Portland and quickly found a home in the design community here. He answered a few of our questions:
How did you get started drawing letters?
At my first job I did a lot of branding work. So in the process of sketching out logo concepts, I found myself growing more and more interested in type and the things that make type look good. This sparked my interested and from there type began to be a central focus in a lot of my doodles. From there things just kind of snow balled and eventually I started to take lettering more seriously.
We know you love Sharpies – any other favorite tools?
Sharpies are definitely my go to medium. As far as coloring goes, I've really been loving the look of watercolor in combination with bold sharpie pen line work. A size 0 or 1 brush and ink has been fun to explore with lately as well. I've been putting together a side project were I almost exclusively used a brush and ink. If I'm looking for more precise line work, I'll sometimes use Micron pens as well.
What drew you to Portland?
I really don't have much of a compelling reason for moving to Portland! I heard great things about Portland but had only visited once three weeks before moving here. My lease was running out at my place in California and I had to make a move so I figured, why not!? I figured I could always move again if things didn't workout but I've been in love with the city and the people in it since I got here.
At which restaurant/bar can we find you after a long day?
Purely based on the frequency of my visits, Don Poncho's on Alberta is definitely my favorite spot. Their chicken tacos, rice, and beans are so dang good and you can't beat that combo for $5 – that with a Mexican apple soda… mmm. Yes.
What's been on the stereo lately?
There is rarely a day that goes by that I'm not listening to some 50's – 70's era jazz. Dave Brubeck, Ahmad Jamal, Dizzy Gillespie…etc. It's got the right amount of chill to calm you down while also having the right amount of energy to keep things moving. I've also been enjoying Wye Oak and the new Jose Gonzalez album. Gotta love some music that'll make you think. At this very moment though I'm listening to Andrew Bird's new album, Echolocations: Canyons. I've really been enjoying it. He traveled around to several different canyons and recorded songs/sounds that complimented the acoustics of that canyon best and it's so beautiful. It's such an amazing idea to. That guy is so creative.