We teamed up with Newspaper Club to create a limited run of Scout Books they're including in their sample kits to show off the awesome power of print, whether it's in notebook or newspaper form. They designed a custom Scout Book inspired by the British tabloid The Daily Sketch to start the year off right for your doodles, sketches, plans, and projects. We had a really fun conversation of the Newspaper Club about how they got started, what the print world looks like in 2019 from their perspective, and a look at some of their favorite projects from the past year. Also take a look at the counterpart post, where we answered their questions about the origins of Scout Books!
In your own words, what is Newspaper Club? How did Newspaper Club get started?
We're a print-on-demand service that makes it easy for anyone to print their own newspaper. Unlike most newspapers printers, there's no minimum order and you can choose from different formats and paper types. Our business is totally online so you can order 24/7 and we ship nearly anywhere in the world.
The idea for Newspaper Club actually grew out of a joke. In 2009, we printed a collection of blog posts called Things Our Friends Have Written on the Internet—it was designed to be a sort of personalized newspaper. People loved the idea and we realized how effective newspapers can be for small publishing, and how much easier it is to read longform articles in print. We wanted to make the format accessible to everyone and have worked ever since to make newspaper printing easier.
The Daily Sketch is probably familiar to the UK audience where Newspaper Club is headquartered, but for us Yankees and those further abroad, could you fill us in on why you went with that theme for these books?
We knew we wanted our notebooks to look like mini newspapers and were brainstorming ideas for a masthead. The Daily Sketch was a British tabloid in print from the early 1900s until the 1970s (it made a cameo on Downton Abbey!) We thought it was a fun nod to newspaper history that also made perfect sense to use on a notebook.
Even though the print world is vastly different than it was 10 or 20 years ago, it's actually easier than ever to have something professionally printed, and Scout Books and Newspaper Club are living proof of that. Can you share your perspective on printing things in 2019 and beyond?
It's always so hard to know what the future holds, but we've been really heartened by the affection that people have for newspapers. It feels like there's a real pleasure in the tactile nature of print, and more focus on creating high quality printed products that will stick around for a while. There also seems to be a great spirit of experimentation and challenging conventions, which we wholeheartedly support!
You have a really great blog with profiles on artists, creative professionals, and businesses using newspapers as a medium for their work. Can you share a few highlights from the blog that people should take a look at?
We've just published a year-end roundup of 18 Standout Newspapers We Printed in 2018. It's a good mix of the different types of things we print: there's a photography portfolio inspired by a Wagner opera, a catalog for an exhibition of historic shoes and an obituary for a very good dog called Lucy—to name a few.
We also recently interviewed the illustrator Raymond Biesinger, who's been printing with us for a few years and whose work we love. He does an editorial illustration for places like The New York Times and Monocle but also designs these amazing "paper LPs" for his band, The Famines. They're newsprint posters that have a code to download the music, which he started making when it got too expensive to press vinyl records. It's such a cool idea!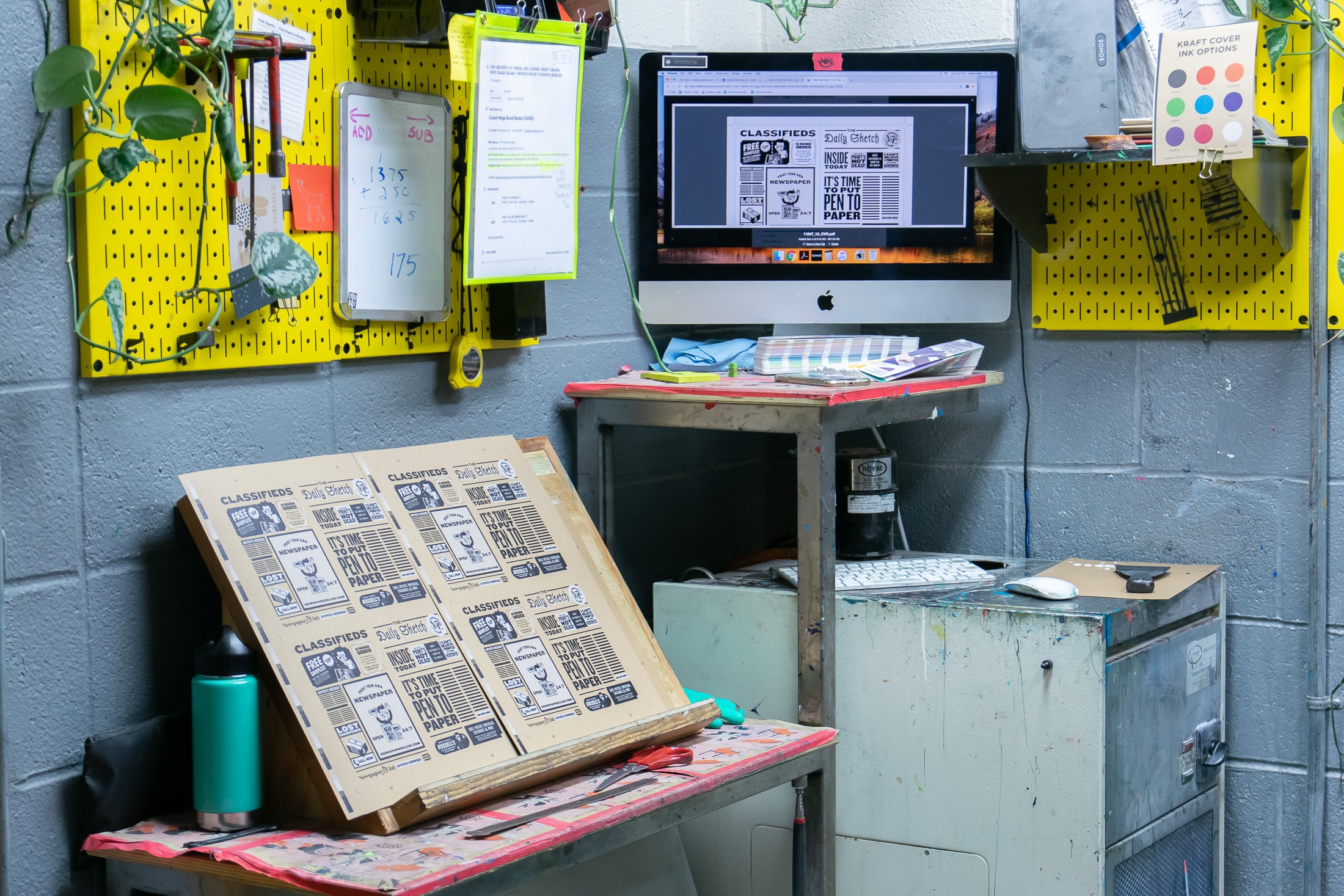 Any advice for someone looking to put something to print, possibly for the first time?
Our free sample newspapers are a good place to start. They've got color charts, photo guides and feeling the paper in person will give you a better sense of how your design might work in print.
If you can get your hands on a copy of Newspaper Design by Javier Errea, it's a great reference packed with creative editorial design from around the world. And we're always sharing things our customers are printing on our blog and Instagram, so there's plenty of inspiration there too!
Huge thanks to Newspaper Club for teaming up with us on this feature! Newspaper Club included these notebooks in a limited number of samples, which have all been claimed! Thanks everyone!