A look at some of our favorite Scout Books of the year
A lot of books go through our shop, 1,142,578 in 2016, not that anyone is counting. If making all those books has taught us one thing, it's that you can do just about anything with Scout Books. From making the definitive resource guide to all things nachos, to helping people learn how to invest in the stock market, we've seen it all. We're highlighting a few of our favorites from the past year for you to get inspired by for your own bookmaking, or just check out all the cool things our customers are doing with their own custom notebooks.
Design Ethics
Mike Monteiro thinks it's about time that design had a code of ethics, so he made one. Mike's book started as a series posts on Medium, and has made it's way to physical format as part of Design the Right Thing, the latest in Mike's crusade to get designers to take ownership of the things that they help bring into the world.
"I think design is caught in the same "holy shit now what?!?" moment as everyone else. We've come a long way in explaining the value of good design. Companies no longer think of it as an add-on, or an investment (remember all that god awful ROI crap?) but as a cost of doing business, and a requirement to being successful. So congrats designers! We made the team! Now that we've convinced people of our value, and gotten a seat at the table, we need to understand our responsibility. We're gatekeepers, man. We're the people who make things. And decide what gets made and how it gets made. And we have a responsibility to make sure things are being made well, and for the right reasons. We're also responsible from keeping things that are being made to hurt people from seeing the light of day."
Project Specs:
500 Custom Pocket Scout Books
Red Staples
Standard black and red inks
Custom pages
Ladies Get Paid
Founded by Claire Wasserman, Ladies Get Paid is an organization dedicated to giving women the tools and support they need to get equal pay and promotion in the workplace. It's an inspiring community, with over 10,000 strong women from all 50 states and over 50 countries. Ladies Get Paid worked with Scout Books to publish their Workplace Bill of Rights, a book created to educate members on the current state of gender at work, and giving them an empowering tool in the fight for equal pay.
"I believe we can change the world, one raise at a time. As each each of us makes progress, we are all one step closer to the top. As the saying goes, 'A rising tide raises all boats.'" – Claire Wasserman
Project Specs:
500 Custom Pocket Scout Books
Pink staples
Standard black ink, custom gold ink
Custom pages
Joy Wedding Planning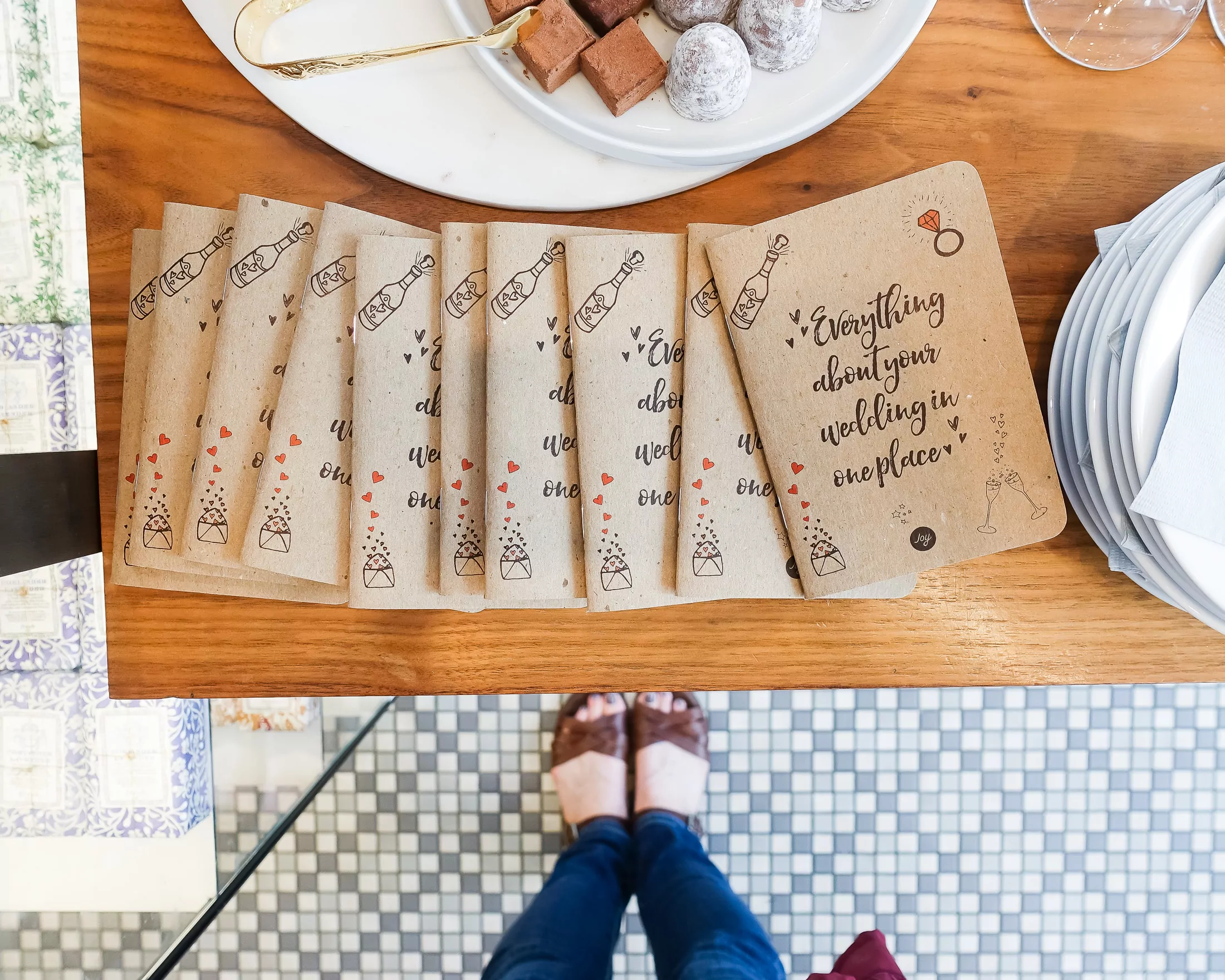 Joy is a one-stop-shop for your wedding planning. Create a website, send RSVPs, and share photos from the event all on one site (or app.) The best part? Right now it's totally free. Joy is serious about making their couples happy, so in addition to their great service, they created Scout Books to send as a thank-you to their couples.
"There are only so many Starbucks gift cards you can send as a thank you. We decided we wanted to have something more meaningful and useful to give to those couples who lend us their time for user research, product testing, or in the rare case, as an apology for some sort of error on our part. We feel confident that the Scout Books represent our brand: the quality, the practicality, and the focus on design."
Project Specs:
500 Custom Pocket Scout Books
Silver staples
Two standard inks
Lined pages
Swift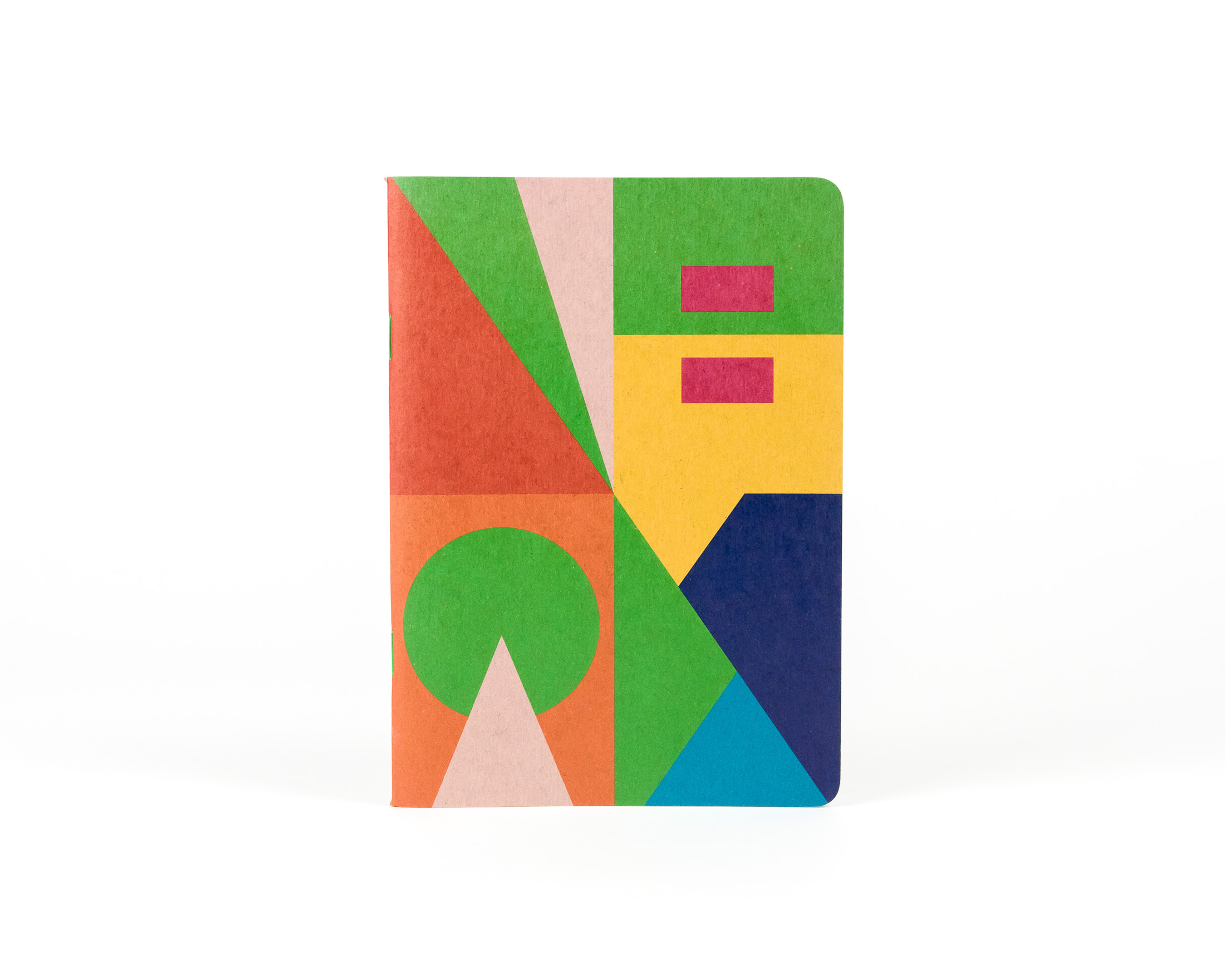 Swift made their Swiftology with us, a collection of values that they run their business with. The front and back covers feature artistic representations of each of the eight values. These lovely books made their way through the shop, delighting us all with their bold geometric design and generous use of color.
Alicia McVey, CCO at Swift, shared a the story behind the books. "Swiftology is a set of values, a philosophy we developed over time that represents how we work and what we believe. The sum of these beliefs makes us who we are. They inspire us, hold us accountable and guide our decisions. Several years ago, leadership and employees collaborated to come up with on a set of 15 Swiftologies that defined the Swift ethos. In 2017, we felt it was time to edit and reboot, to really get sharp on our guiding principles. We arrived at the eight core beliefs shown on the inside cover of the notebook. Each Swiftie (and new employee) receives a Swiftology Scout Book notebook. The cover design corresponds with eight flags we have hanging in our main entrance, and in addition to displaying the flags, we wanted each person to have something personal. The idea is the books serve as a reminder of the beliefs that make us who we are."
Project Specs:
500 Custom Mega Scout Books
Green staples
Six standard inks, two custom inks
Interior cover printing
Dot grid pages
Nicole Mason
Photographer Nicole Mason worked with Scout Books to publish her first printed book, a collection of instant photos taken on her travels across the world. We loved seeing Nicole's photography come to life, reproduced in gorgeous black and white. Nicole focuses on creating timeless work with a nostalgic aesthetic, and this book is a perfect representation of that.
"To me, the series of images in the book are a reminder to enjoy the ordinary in life, and to remember that some of the simplest times are what we define our lives by. There's not a lot of money or fancy things involved, in fact most the situations I was in when taking these were nothing more than driving around with friends and eating cheap food. When I use this camera to shoot, I'm often thinking "what do I want to remember about this time?" and these photos are the answers to that question; they are a lot of the most joy-filled and memorable moments in my life."
Project Specs:
250 Custom Mega Scout Books
Black staples
Standard black ink
Custom pages
Keepers of the Constants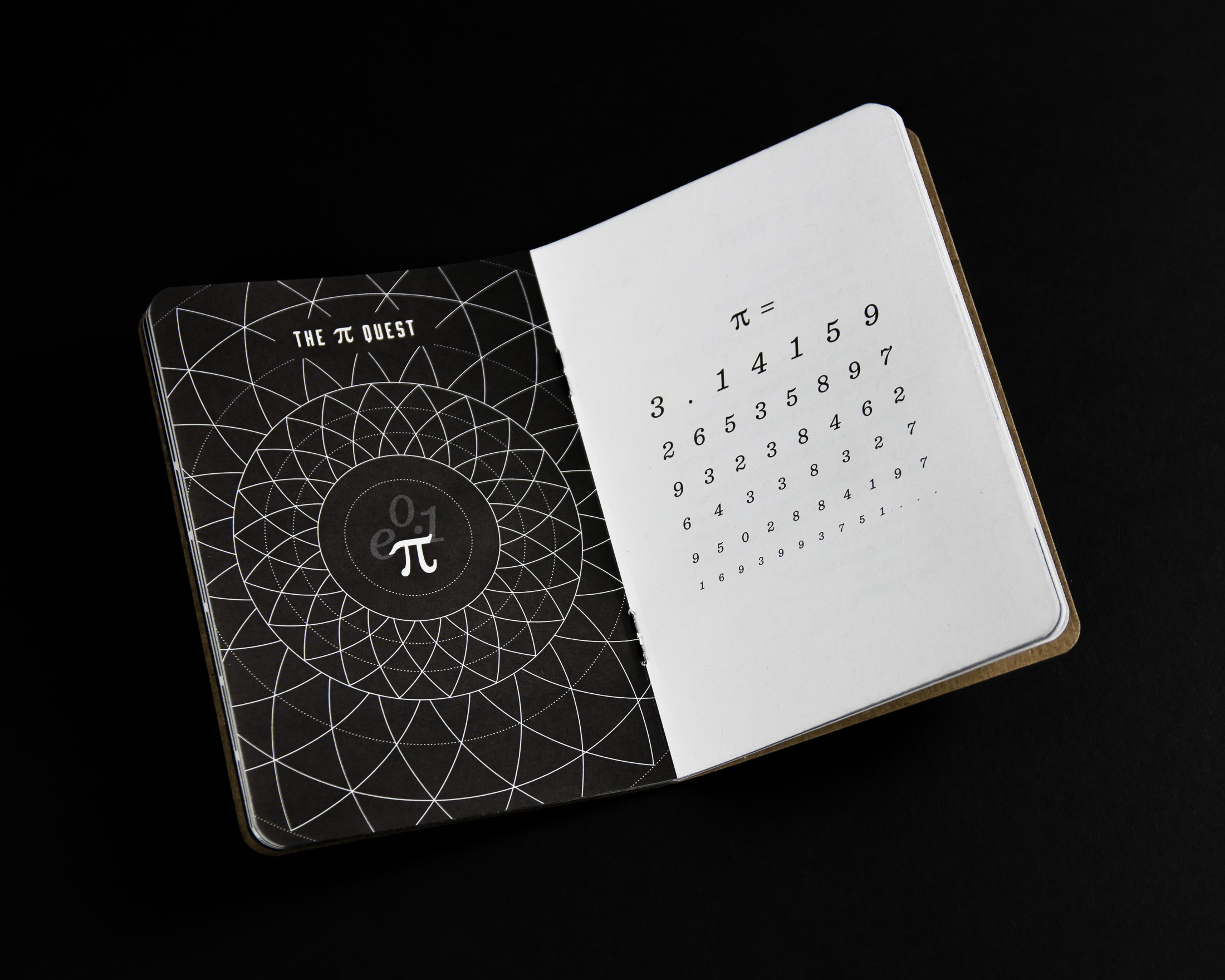 We love seeing Scout Books used to bring an event together, like this book designed by Jenna Steely for an alternative reality game hosted by Take 3 Presents. They created this pocket Scout Book as a guide to the event, and a way to enrich the authenticity of the experience for participants.
"The book functioned as a cryptic recruiting device. There were five challenges: some easy, others more complex and requiring you to explore the art and grounds and solve a variety of puzzles along the way. The final challenge was the induction ceremony. Only the most devout were able to uncover the time and location of this secret ritual… You'll notice everything is written in verse, which added to the mystery. Design-wise, we leaned heavily on the theme of "sacred geometry" to lend a sort of bullshit mystical vibe. And Thomas has a strong black-and-white theme to all of his art, which was fun to carry through in the book design. We also painted 40 or so bakers hats and aprons with black-and-white patterns, and all the other real-world touchpoints for the game were marked with the black-and-white patterns as well. Branding is important, even in games—and having these books printed brought a real legitimacy to the event experience that would otherwise have been missing."
Project Specs:
1000 Custom Pocket Scout Books
Black Staples
Standard black ink
Custom pages
Puesto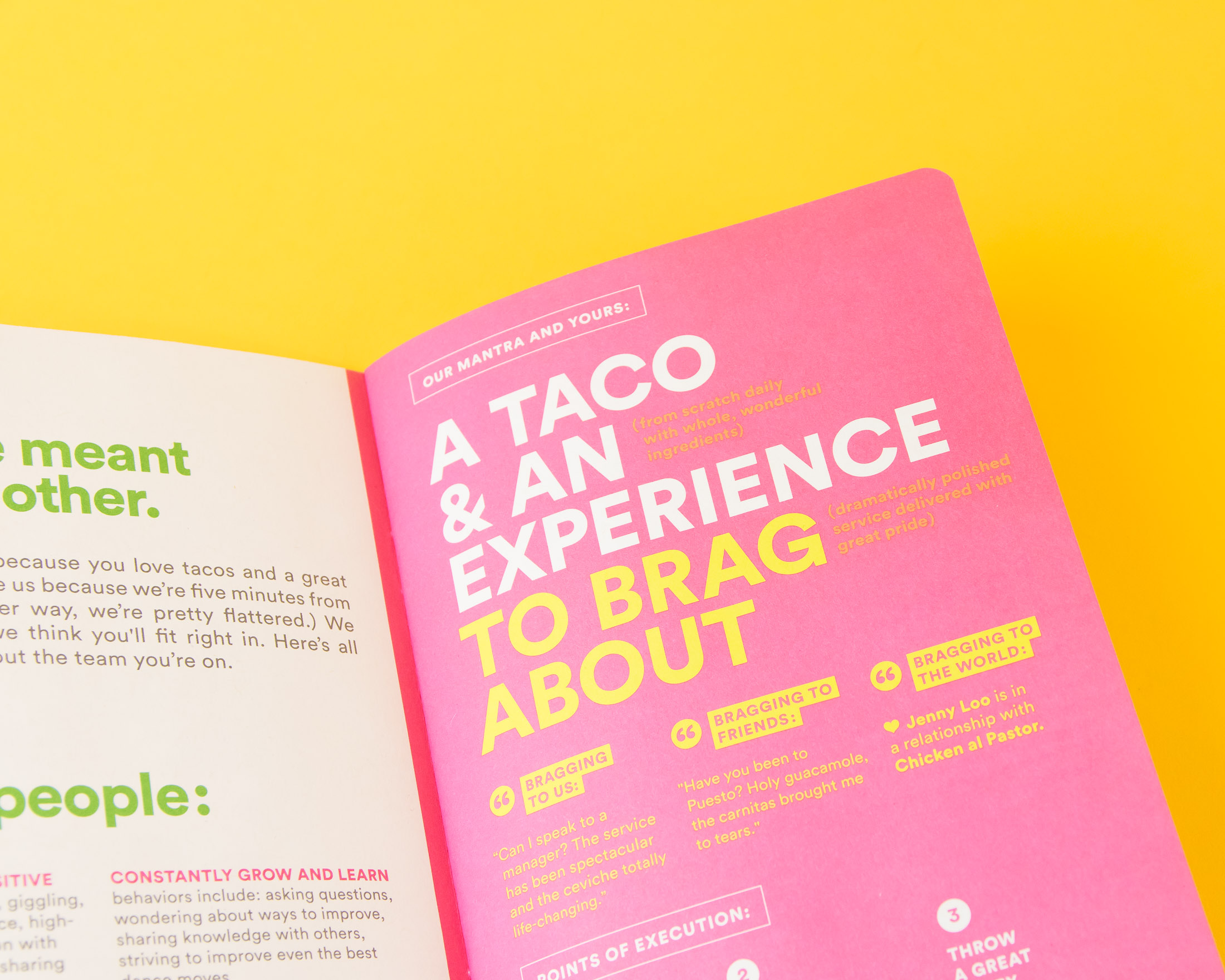 How do you create a company culture? It's no easy task, but Puesto takes it seriously in the best kind of way. With wonderful design work from Ripe, Puesto created two employee culture guides, one in Spanish and one in English, for every new employee. It helps get everyone on the same page, and gives them something tactile to refer to during their on-boarding process.
"Every current employee and new hire is given a copy at their orientation. The Culture Guide has been a great tool in introducing the team to what we are all about and reinforcing the values of the company for long-time employees."
Project Specs:
2x 1000 Custom Mega Scout Books (Enligsh and Spanish editions)
Navy Staples
Standard pink and white inks
Full color custom pages
Fullbright
Portland-based game studio Fulbright used Scout Books in their launch party for Tacoma, their hotly anticipated followup to Gone Home. The launch notebooks make use of our new gray cover, and design choices like the gradient used on the front cover and a couple great typefaces make this a classy takeaway for their launch party.
"After three years of working on Tacoma, we knew we wanted the launch party to be a memorable event for everyone involved. We've been a fan of Scout's stuff for years, and when the idea of party favors came up, custom Scout notebooks popped immediately to mind. We're really happy that we were able to create something that is both beautiful and functional for our guests to take home with them!"
Project Specs:
250 Custom Pocket Scout Books
Silver staples
Black ink
Dot grid pages
Monster Scouts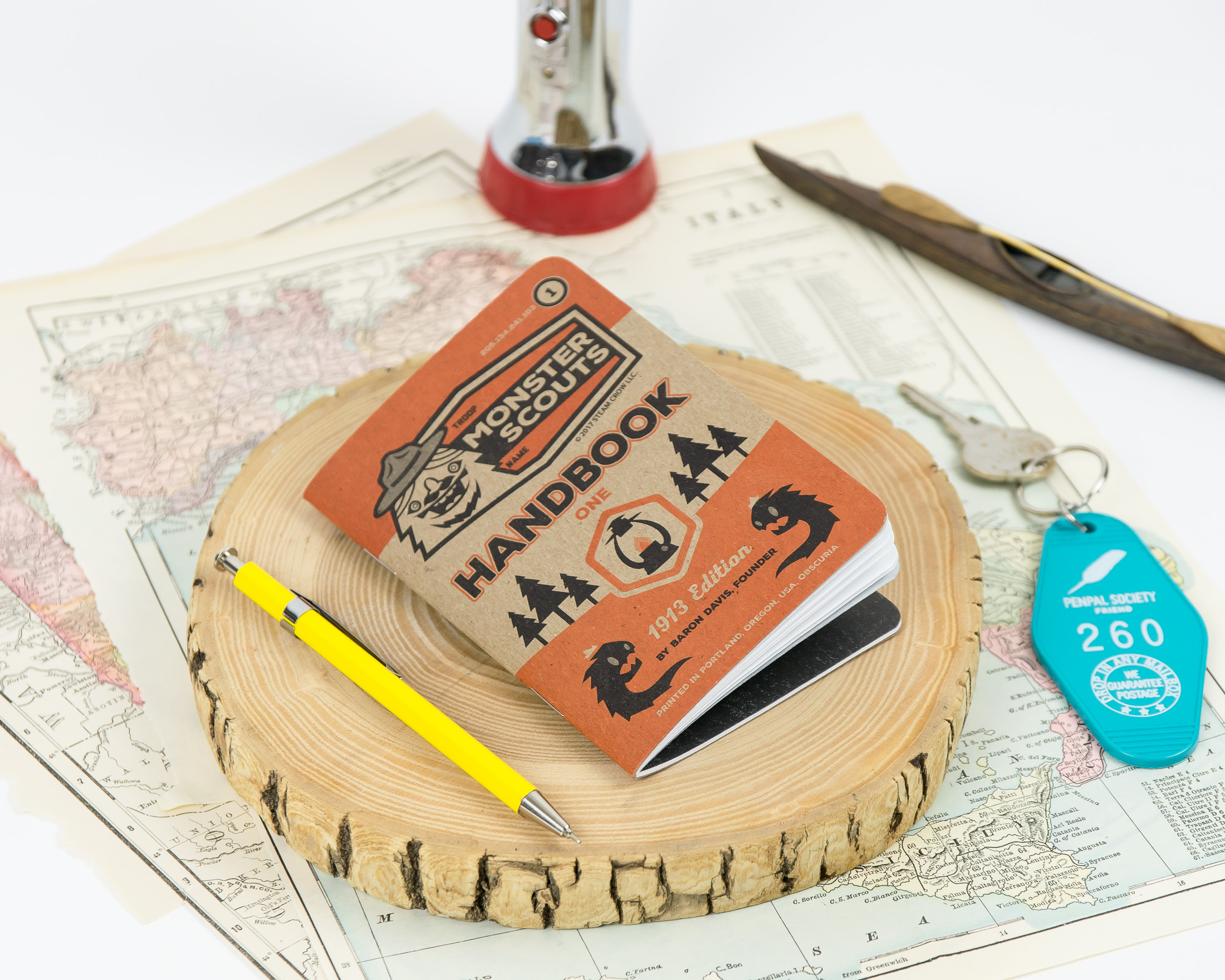 Do you believe in monsters? If you answered yes, you're probably a good candidate for the Monster Rangers. Brainchild of Daniel and Dawna Davis, The Mounster Rangers are a community of "oddballs who love Halloween, monsters, making and playing games." They used Scout Books for their 2017 membership drive, which raised over $27,000 and totally smashed their goal of $9,999 on Kickstarter. This handy handbook is the perfect guide for new and grizzled scouts alike, and a great reward for backers.
"I was looking for exactly what you guys are… a quality, US printer, who specialized in these little pocketbooks. I searched the web, and then my pal Bobby handed me one of yours… and THIS IS IT! As a creator, I really LIKE that they're limited in pages. That 32 page limit ensures that I can tackle (and finish) the project. I was able to share them with the Scouts that attended our Summer Monster Camps, and it was a blast seeing them dig their way through the book. They all seemed pretty excited to finally have Handbook Volume 1."
Project Specs:
750 Custom Pocket Scout Books
Silver staples
Standard black and orange inks
Custom pages
Project Nande
Ever wanted a travel guide that helped you travel as if you were a local? Yeah, us too, and so did Project Nande, so they made Scout Books to do just that. Enter volume one of the Chicago Field guide. Produced by a collective of Chicago-based photographers, Project Nande is creating a series of photo essays, along with these field guides, to experience the Windy City.
"We started our first experiment over a year ago by producing a subscription-based series of online travel photo essays to motivate readers to cross neighborhood lines and explore parts of Chicago they otherwise might not experience. Each week we go around the city with our cameras and notepad to find what we think will inspire our members to experience someone else's community. At the end of each week, we publish an online travel photo essay with original photography and writing that acts as an itinerary telling readers where to go, what to do, and how. We followed that up by introducing a text message based concierge service so members could talk to us directly about things to see in Chicago. Our latest experiment is this pocket Chicago Field Guide.
We were inspired by how creative other people were with creating their Scout Books and we thought this was the perfect medium for our work. Plus, you made the whole process as easy as you could for folks like us who had no experience with print publications or book design."
Project Specs:
750 Custom Pocket Scout Books
Silver staples
Standard black ink
Custom pages
Deer Tick
When you're building an audience, it's good to build up those personal connections, but it can be hard when you've got fans spread all over the world. Deer Tick took that challenge by the horns (antlers?) and made these books, complete with photos and handwritten lyrics from the band as premium items for the launch of the latest double album from the band. They worked directly with the designers to make a high quality piece that would represent them the way they wanted, and provide something valuable to their fans.
"We chose Scout Books because of the overall quality, not only in the materials but also in the printing process. Before discovering Scout Books, we requested quotes / samples from a few printers, but were unsatisfied with the methods. Most wanted to print both the cover and pages digitally, which we knew uses toner-based ink. This gives the ink a metallic sheen and makes it sit atop the page rather than sink into it, not to mention the more muted colors that most digital printers suffer from.
We included the booklets as part of the Deer Tick's Pledge campaign before the album came out, and plan on selling some of the books in our store as well. Basically they exist as a premium item that Deer Tick's die hard fans can buy as an accompanying piece for the album. Due to production limitations, the album's packaging did not allow for lyrics to be included, so this was a great way to make them a special add on."
Project Specs:
2 x 500 Custom Pocket Scout Books
Red and yellow staples
Red and yellow inks
Custom pages
Witty Gritty Paper Co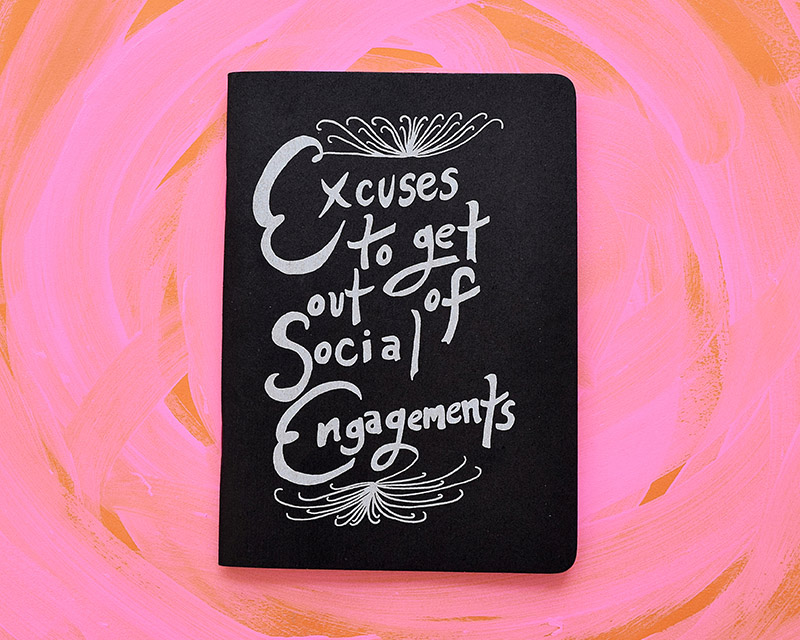 When you're putting out new products, it's important to choose the right manufacturers and suppliers so you don't let your customers down. We spoke with Meredith of The Witty Gritty Pper Co. on what it's like to run their business and get new products out of the idea zone and into their customers hands.
"In my experience, there is almost nothing more frustrating than having an incredible, cutting-edge new idea or turn of phrase that you fall in love with, and then discovering that you can't afford to produce it the way it looks in your head. There are so many things to consider when dipping your toe into manufacturing for the first time as a baby business; The cost to you, if your margins work for retail, if they work for wholesale (the most common deal-breaker for us), the cost of packaging, the manufacturing practices, the country of origin, materials used, the cost to ship the inventory to you, wether or not the product is too saturated already in your industry, where you'll store the new inventory, it goes on!
Finding manufacturing partners can be such a rabbit hole and so stressful as you try to figure out what you can afford and what matters most to you. We chose to partner with Scout Books because environmentally sound business practices is something that was indispensable to us. We also loved that they were offset printed (and knew our retailers and customers would too) and that they were made in the U.S. Turns out, it is nearly impossible to have notebooks made outside of China that still worked for our margins and our brand, so Scout Books perfectly fit the bill and offered something (in quality and integrity) that no one else could."
Project Specs:
4 x 500 Custom Mega Scout Books
Pink, white, navy, and yellow staples
Eight standard inks
Blank, dot grid, and lined pages
Stockpile
Good design can just make things click. Case in point, these books for Stockpile. It's a rookie's guide to investing in the stock market. By clever use of the cover and paper stocks as a third color, Office was able to get what is basically a third color for free. The result is a gorgeous book that exudes quality and intention, and builds the kind of trust that's needed in their business.
"We partnered with the Office design studio on a project to help us demystify the stock market for new investors and to provide people with a solid foundation for investing. When Office presented designs for our financial education content, they recommended Scout Books as a great option to help us print a rookie investor guide. Office had a wonderful experience working with Scout Books on a past project, so we decided to take their recommendation, and we couldn't be happier with the overall experience and with how our notebooks turned out. Scout Books was very helpful in accommodating our rushed shipping schedule as well. Somehow, a physical notebook invites participation. The experience of flipping through it, taking notes, making a plan. With so much of our life and business online, sometimes putting pen to paper creates just the kind of brain space we need for fresh ideas."
Project Specs:
1000 Custom Mega Scout Books
Silver staples
Two custom inks
Custom 2-color pages